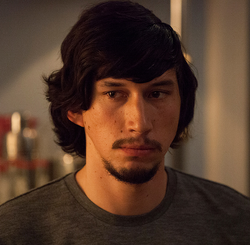 Jedi News is reporting a source as saying that Adam Driver, who was confirmed as a member of the Star Wars Episode VII cast in the recent casting announcements, will be playing the son of Han Solo and Princess Leia. Previous rumors indicated that Driver would be playing the villain—and, if this rumor is true, he will sort of be the villain. According to the report:
"He will be playing the son of Han and Leia, and it seems he will be seduced to the Dark Side, and a main plot point for the movie will be their attempt to rescue him."
This information is similar to what we here at Fanpedia have heard about in recent months. Given that Harrison Ford is also rumored to have a "gigantic" role in the new film, it would make sense that much of the story would be based around Han Solo trying to rescue one of his kids, whether that be from kidnappers or from the dark side. It wouldn't surprise me if Daisy Ridley took the lead as the central young hero and the daughter of Han and Leia (and therefore the sister of Adam Driver's character), paving the way for her becoming the main character of the sequel trilogy by Star Wars Episode VIII.
What do you think of this rumor? Is it something you'd find interesting as a Star Wars film plot? Let us know in the comments below!
---
About the Author
Brandon Rhea is the founder of Star Wars Fanpedia, a contributor on Wookieepedia, and the owner/operator and creative lead of The Star Wars RP. Professionally, he is Senior Community Manager at Wikia, the host of Fanpedia. Follow him on Twitter @brandonprhea.