Star Wars Episode IV: A New Hope
Director(s)
Producer(s)

Gary Kurtz

Writer(s)

George Lucas

Starring

Sir Alec Guinness
Various others

Music by
Distributor

20th Century Fox
Walt Disney Studios Motion Pictures (reissue TBA)

Released

May 25, 1977

Timeline

0 BBY

Preceded by
Followed by
"A long time ago in a galaxy far, far away...."
―Tagline
Star Wars Episode IV: A New Hope, originally released simply as Star Wars, is, chronologically, the fourth chapter of the Star Wars film saga, and the first released into theaters. It is the first film of the original trilogy and is followed by two sequels, a prequel trilogy, and a forthcoming sequel trilogy. The film was written and directed by George Lucas, and produced by Gary Kurtz. It would be the last film Lucas directed until Star Wars Episode I: The Phantom Menace.
Chronologically, the film is set nineteen years after Star Wars Episode III: Revenge of the Sith and centers around the character of Luke Skywalker, the secret son of Darth Vader—a fact neither of them know yet. As the story unfolds, Luke takes his first steps towards his destiny as a Jedi Knight and joins the Rebel Alliance. Other characters include Han Solo, Princess Leia, Chewbacca, C-3PO, R2-D2, and Obi-Wan Kenobi. The film builds up to a final battle to destroy the Galactic Empire's Death Star, a weapon that can destroy entire planets.
A New Hope was a major box office success and became a global cultural phenomenon, earning near-universal praise from critics and fans alike. As of 2013, between the original release and multiple re-releases, the film has earned over $2.5 billion dollars when adjusted for inflation. This makes A New Hope the second highest-grossing inflation-adjusted film of all time, second only to Gone with the Wind. Critically, the film holds a score of 93% on Rotten Tomatoes.[1] The film has since been re-released in theaters in 1978 and 1997, as well as on VHS, DVD, and Blu Ray throughout the 1980s, 90s, 00s, and 10s. In 1989, the film was preserved in the National Film Registry, part of the United States Library of Congress, for its historical and cultural significance.
02:02

Star Wars Teaser Trailer




01:09

Star Wars Episode IV - A New Hope (1977) - Open-ended Trailer



00:30

Star Wars - TV Spot 1




00:30

Star Wars - TV Spot 2



00:30

Star Wars - TV Spot 3




00:30

Star Wars - TV Spot 4



00:31

"Star Wars" Special Edition Commercial (1997) 1




00:32

"Star Wars" Special Edition Commercial (1997) 2



Special Edition TV Spot #3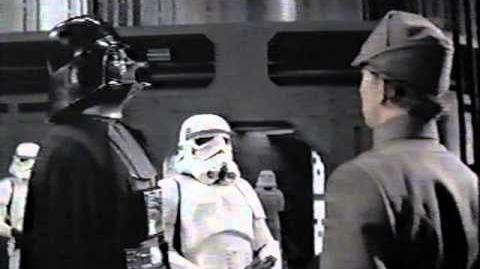 Notes and references
Edit
External links
Edit
Darth Vader carries a red lightsaber.
Luke Skywalker now has a light blue lightsaber.
Obi-Wan Kenobi has a light blue lightsaber.
Ad blocker interference detected!
Wikia is a free-to-use site that makes money from advertising. We have a modified experience for viewers using ad blockers

Wikia is not accessible if you've made further modifications. Remove the custom ad blocker rule(s) and the page will load as expected.