Star Wars: Battlefront
Publication information
Developer(s)

DICE[1]

Publisher(s)

Electronic Arts[1]

Game engine

Frostbite 3[1]

Chronology
Era(s)
Star Wars: Battlefront is an upcoming Star Wars video game developed by Electronic Arts subsidiary DICE. The game has long been a source of speculation and discussion in the Star Wars fandom. It was officially announced as being in development on June 10, 2013, at the 2013 Electronic Entertainment Expo (E3).
What little we know about the game comes from a brief teaser trailer released during E3. The trailer shows a soldier running through the battlefield during the Battle of Hoth, from Star Wars Episode V: The Empire Strikes Back, while an AT-AT approaches. This suggests that the game will take at least partly during the Rebellion era.
News and rumors
Edit
After five successful games in the Star Wars: Battlefront franchise, the last one being in 2009, Star Wars fans were anxious to play another game in the popular series. Based on insider reports, what was then known as Star Wars: Battlefront III was long in-development at LucasArts. However, it was later reported that the game was cancelled, but recent reports had suggested that another game, Star Wars: First Assault, would be a pre-cursor to Battlefront III.[2] The game's future again became uncertain in April 2013, once LucasArts shut down its development wing and shifted to a licensing model.[3]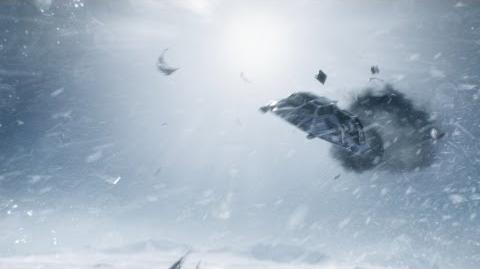 In May 2013, the possibility of Battlefront being revived started to seem likely. After the company secured an exclusive multi-year, multi-game license with Lucasfilm and Disney, Electronic Arts CFO Blake Jorgensen said that, "The opportunity to do a new Battlefront, for example, which is one of the very popular Star Wars games, or some of the other traditional games that were made, is very exciting."[4]
EA officially announced a new Battlefront on June 10, 2013 at their E3 press conference. Little is known about the game, currently titled Star Wars: Battlefront, but it is known that the game will be developed by EA subsidiary DICE and will play on EA's new Frostbite 3 engine. The teaser trailer EA released shows a soldier running through the snow during the Battle of Hoth, as a snowspeeder crashes and an AT-AT approaches, suggesting that the game will take place at least partly during the Rebellion era.[5]
That same week, speaking to Eurogamer, DICE General Manager Patrick Söderlund said that the new game would be "DICE's interpretation of what Battlefront should be" and that, while "there are absolutely things in the previous Battlefront games that you'll recognise and remember... DICE wants to put its own flavour on it." Söderlund also went on to say that it was why the game is simply called Star Wars: Battlefront, rather than Star Wars: Battlefront III. Nevertheless, he assures fans that "it's going to be very Star Wars and very cool."[6]
On July 31, 2013, EA CFO Blake Jorgensen said that Battlefront would likely be released in the summer of 2015, around the same time as Star Wars Episode VII.[7]
Notes and references
Edit
Ad blocker interference detected!
Wikia is a free-to-use site that makes money from advertising. We have a modified experience for viewers using ad blockers

Wikia is not accessible if you've made further modifications. Remove the custom ad blocker rule(s) and the page will load as expected.