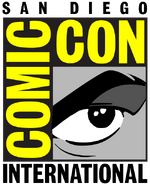 The 2013 San Diego Comic-Con was from Thursday, July 18th to Sunday, July 1st at the San Diego Convention Center. Star Wars only had a limited presence there, but Star Wars Fanpedia and Wikia were on hand in San Diego to cover everything Star Wars related!
In the sections below, you can find information we've compiled and pictures we've taken from each individual day. If you're at Comic Con and would like to add your own pictures, feel free to do so!
July 17th (Preview Night)
Edit
eFX Stormtrooper Armor Replica
Edit
At Preview Night, Star Wars Fanpedia was able to get access to the eFX Collectibles exhibit to check out their yet-to-be released Stormtrooper armor replica. The armor was cast directly from one of the uniforms used in Star Wars Episode IV: A New Hope, and it's the first time a collectible company has been able to do that—making it the most authentic Stormtrooper armor replica ever created. We were able to take some pictures of the replica that was on display.
If you're at Comic-Con, you can check out the replica at Booth #3635.
Lucasfilm Pavilion
Edit
After viewing the Stormtrooper replica, we headed on over to the Lucasfilm pavilion, which was decked out in iconic mural artwork from the Star Wars films.
July 18th (Day 1)
Edit
San Diego Comic-Con opened today, and Star Wars Fanpedia and Wikia were there to cover it! Check out some of the Star Wars images taken by Wikia Stars Jamie and Peteparker.
July 19th (Day 2)
Edit
On the second day of Comic-Con, the Wikia team continued to make their way through the convention. The picture we have here was taken by Jamie:
July 19th (Day 3)
Edit
The third day of Comic-Con brought more Star Wars pictures, these taken by Wikia Staff member Kate Moon.
Ad blocker interference detected!
Wikia is a free-to-use site that makes money from advertising. We have a modified experience for viewers using ad blockers

Wikia is not accessible if you've made further modifications. Remove the custom ad blocker rule(s) and the page will load as expected.