"There is plenty of room for fans to express their own feelings and opinions. We believe our core fans are responsible for the continuing popularity of the series, and we want to encourage them. Our intellectual properties are there for you to play with, but we expect you won't try and make a profit or use our characters in a salacious way. Having that wide-open frontier serves as a self-policing mechanism for the fans, who are really appreciative of being included."
A fan film is a film made by fans. The contents can include canon material but any storylines made are not recognized as canon.
Most fan films are humorous and they are mostly fanon although some may contain elements or mentioning of canon.
Websites with fan films
Edit
http://www.kuatengineer.webs.com/ This site is devoted to nothing but Star Wars fan films. It has the largest selection of Star Wars fan films anywhere, including a large library of films available for download.
TheForce.net is one of the biggest fan websites on the Internet and has the largest database of Star Wars fan films. The site also has many tips and tutorials on creating fan films.
AtomFilms.com has been holding awards for Fan Films since 2002.
Notable fan films
Edit
Dark Resurrection - An Italian film with impressive special effects. Hailed as "truly amazing" by LucasFilm.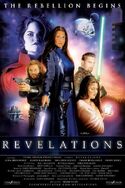 The Formula - Heralded by some as one of the best/most original fanfilms.
Star Wars Gangsta Rap - 2002 Winner of the Audience Choice Award
TROOPS - 2002 Winner of the Pioneer Award and one of the first fan films to be made
IMPS: The Relentless - The sequel to TROOPS, this is a popular series of eight 20-minute films depicting various operations of the personnel stationed aboard the Imperial Revenge-class Heavy Carrier Relentless, a fan-created design, presented as an in-universe documentary.
Pink Five - 2003 Winner of the George Lucas Selects Award
Pink Five Strikes Back - 2004 Winner of the Audience Choice Award
For the Love of the Film - 2005 Winner of the George Lucas Selects Award
Sith Apprentice - 2005 Winner of the Audience Choice Award
Return of the Ewok - 2005 Winner of the Pioneer Award
Star Wars: Revelations - A fan film that exhibits some of the best amateur digital effects in the genre.
Ryan vs. Dorkman - Two extensive lightsaber duel fan films.
George Lucas in Love - Winner of the 2004 Pioneer Award
Star Wars: Renaissance - 2010 Winner of the Audience Choice Award, and possibly the most recognized spanish-language fan film.
Three in the Afternoon - Winner of Best Short Comedy at the Wizard World Film Festival, Winner of the East Texas Short Film Festival.
Star Wars Uncut - 2010 Winner of the Creative Arts Emmy Award for Oustanding Achievement in Interactive Media
Notable directors
Edit
"The galaxy is a big place. We're not asking for money, just recognition."
―Mazen Malawi, Director of Seeds of Darkness
External links
Edit