Sunday, July 28, 2013 marked the third and final day of Celebration Europe II, a convention held in Essen, Germany to celebrate Star Wars fandom. Unlike Day 1 and Day 2, members of Wikia's German Staff were not able to attend, so our recap for Day 3 won't be filled with as many photos. However, we will still recap the major events of the day as best as we can.
Major Events
Edit
The Fett-Tastic Four
Edit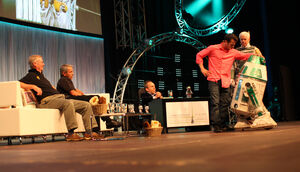 For the first time ever, all four actors who played Boba Fett throughout his many Star Wars appearances gathered together at Celebration Europe II. These actors are Jeremy Bulloch, who played the character in Star Wars Episode V: The Empire Strikes Back and Star Wars Episode VI: Return of the Jedi; John Morton, who briefly played him in a scene on Cloud City in The Empire Strikes Back; Dickey Beer, a stuntman in Return of the Jedi; and Daniel Logan, who played the character in Star Wars Episode II: Attack of the Clones and Star Wars: The Clone Wars. Bulloch, the original actor to portray the character, arrived on stage in full Boba Fett armor.
The actors all talked about their experiences in the films. Beer, for example, talked about what it was like to fall—or roll, as he put it—into the Sarclacc pit for Fett's death scene—but did Fett really die? Not if Bulloch has anything to say about it. "He didn't die. He gets out of the Sarlacc pit," the actor said. Morton played Fett for only one day, but received a direction that he's remembered to this day: think like Clint Eastwood. Daniel Logan didn't know who Boba Fett was when he first got to play the character as a young boy, nor did he know much about Star Wars, but he's a huge fan now.
To read the full recap, see the live blog on StarWars.com.
Jabba's Palace Reunion
Edit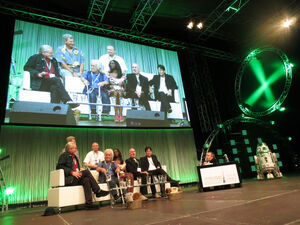 Jabba the Hutt and the many creatures in his palace on Tatooine may be the famous ones, but someone had to make them famous. For the "Jabba's Palace Reunion" panel, many of the puppeteers and actors who made Jabba's palace come to life gathered to talk about their experiences on Star Wars Episode VI: Return of the Jedi.
Some of the talk centered around the iconic character Salacious Crumb. The character's puppeteer, Tim Rose, told a story about how Salicious' iconic laughter was based on the definition of the character's name. Another fun story came from actress Femi Taylor, who played doomed Twi'lek dancer Oola, who said that the character did not have a backstory but that Taylor imagined one for her own benefit.
One thing was made very clear: making the scenes on Jabba's palace, as well as the sail barge, took an extraordinary amount of work. There was so much work involved that Michael Carter, who played majordomo Bib Fortuna, was disappointed when the Max Reebo Band song and dance were changed, including with CGI, for the Special Edition of Return of the Jedi. He recalled watching the puppeteers rehearse that scene for days, and the Special Edition removed much of that work.
To read the full recap, see the live blog on StarWars.com.
Mark Hamill: The Jedi Returns
Edit
The Jedi returns... to Celebration! Mark Hamill was on hand for Celebration Europe II since Day 1, where he was signing autographs for fans, but Day 3 brought him to his own panel with Warwick Davis. Hamill talked a lot about his experience on Star Wars, including his initial audience with Harrison Ford and how Hamill got the part of Luke Skywalker. What everyone wanted to hear, though, was what he had to say about Star Wars Episode VII. There was no news about the movie, but Hamill did share his thoughts about it in general.
Hamill said that he's cautiously optimistic about the sequel trilogy and has faith in Disney, enjoying such works as Pixar films and the Marvel Cinematic Universe. He is especially enthusiastic about screenwriter Michael Arndt, saying that "he writes characters, and heart, and warmth" very well. Hamill never anticipated being the main character of another Star Wars movie, but he does want to reprise the role of Luke Skywalker, albeit in a secondary capacity while a new generation takes center stage.
The most important question of all, though, was whether Luke was ever able to go into Tosche Station to pick up some power converters. Perhaps we'll never know, but Hamill did talk about the deleted scene between Luke Skywalker and Biggs Darklighter in Anchorhead, which Hamill feels should be put back into the film because it shows Luke as a normal person.
To read the full recap, see the live blog on StarWars.com.
Closing Ceremonies
Edit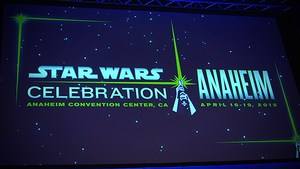 Alas, all good things must come to an end. Celebration figures like Warwick Davis, Pablo Hidalgo, David Collins, Mary Franklin, and more gathered together to give out awards and, in general, to thank everyone for coming. "You are the reason we are all here," Davis said of Star Wars fans.
It was Mary Franklin, though, who had the biggest thing to say. With Celebration Europe II at an end, it was announced that the next Star Wars Celebration will be held on April 16-19, 2015 in Anaheim, California—the city known for housing Disneyland! Celebration VII, as many have taken to calling it—it will be the seventh United States-based Celebration—will arrive just in time for 2015's Star Wars Episode VII. We can expect all sorts of awesome events related to the release of the new film.
Thank you, Lucasfilm, for a great Celebration Europe. See you in Anaheim!
News from Day 3
Edit
Lucasfilm videos
Edit
Ad blocker interference detected!
Wikia is a free-to-use site that makes money from advertising. We have a modified experience for viewers using ad blockers

Wikia is not accessible if you've made further modifications. Remove the custom ad blocker rule(s) and the page will load as expected.